Ellis County Real Estate Market Forecast
The Ellis County housing market is doing great after recovering from the blows of the pandemic since July. In the Dallas-Fort Worth area, single-family home starts surged more than 30% in 2020 with the highest construction volumes in over a decade. According to the Q4 2020 Zillow Home Price Expectations Survey, the Dallas-Fort Worth area will be the nation's 6th hottest housing market in 2021.
Home prices in North Texas and across the country have seen significant gains as demand for houses has risen in the past few months. The Ellis County real estate market is following this trend as well. Median home prices in the Ellis County housing market have skyrocketed to all-time highs of more than $300,000. Before this ongoing pandemic, Ellis County was a balanced real estate market and it was doing pretty well.
But in May 2020, residential sales in Ellis County had fallen 25 percent from their level in May 2019 and the median sales price was up 9 percent. The double-digit decline in April and May led to an overall decline year-to-date compared to 2019. The recovery of sales began from July onwards when sales rose by 20% year over year.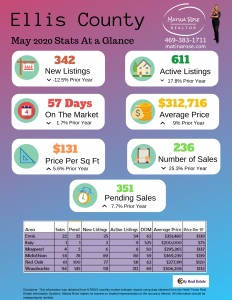 Ellis County Housing Market Trends: A Seller's Real Estate Market
At the end of May 2021, a dwindling supply of active listings has pulled Ellis County's' months of inventory (MOI) down to an all-time low of .9 months, according to the latest data released by MetroTex, the largest REALTOR® association in North Texas. The local agents are doing their best looking for the supply solutions necessary to keep this market healthy. The .9-month inventory figure is 1.4 months less than May of last year. The new construction in the last 10 years has not been anywhere near enough to handle the population growth in the area.
Sales Price: The Ellis County median home price jumped 18% year-over-year to $333,000 in May 2021. Heightened competition for homes on the market and low mortgage rates have placed consistent pressure on home prices for months now. The market is expected to remain hot and in favor of sellers in 2021 as well. Homebuyers are showing an increased interest in suburban neighborhoods across the nation. The increase in demand coupled with a decrease in listed homes would cause home prices in suburban areas to accelerate in 2021.
Listing Prices: Ntreis data shows that in May 2021, the median list price of homes in Ellis County, TX was $349,900, trending up 25% year-over-year. The median listing price per square foot was $160. Ellis County is a seller's real estate market, which means that more people are looking to buy than there are homes available.
Days on Market: On average, homes in Ellis County, TX sell after 25 days on the market. The trend for median days on market in Ellis County, TX has gone down since last month, and slightly down since last year.
Neighborhoods: Some of the hottest neighborhoods in Ellis County, TX are Waxahachie, Midlothian, Ennis, Red Oak, Italy and Maypearl. Midlothian has a median listing price of $389,900, making it the most expensive neighborhood. Italy is the most affordable neighborhood in Ellis County, with a median listing price of $175K.